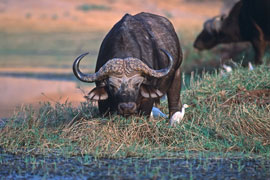 The African or Cape Buffalo
Buffalo are extremely large, ox-like animals. Standing approximately 65 inches at the shoulder, adult males have a mass of up to 1760 pounds and females weigh up to 1650 pounds. To support the large body, the legs are very heavy. Front hooves are larger than the hind because of the extra mass they carry in the huge head and thick neck. Both sexes carry horns, which in the males can grow to 1.5m. Buffalo varies considerably in size, with some of the forest populations half the size of those from the plains and Savannah. 
QUICK FACTS
Habitat: Dense forest to open plains. Plentiful supplies of grass, shade and water are essential habitat requirements for the savannah buffalo. They avoid wide open areas and flood plains which are far from shade. Buffalo drink regularly, often twice a day, and they frequently remain in the vicinity of water when feeding. 
Diet: Herbivorous grazers. Buffalo graze almost exclusively, but do include a small amount of browse in their diet.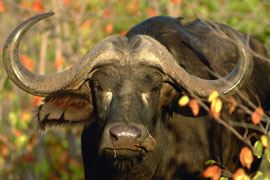 The African or Cape Buffalo
Socialisation: Buffalo are gregarious, occurring in herds of up to several thousand. In the wild they are known to have lived up to 18 years. 
Reproduction: Cows become sexually mature at +/- 3 years of age. The majority have their first calf at five years old and one thereafter every other year. Males that are 7 years or older usually mate with the females. 
Gestation: The gestation period is from 330 to 346 days and a single calf is born. Calf mortality is high with only about 20% reaching maturity. 
Predators: Humans and lion. 
Notes: Once popular trophies for hunters, these large and often dangerous animals have continued to capture the imagination. Buffalos have earned a bad reputation from hunters and other people who come in close contact with them. They are unpredictable and can be dangerous if cornered or wounded.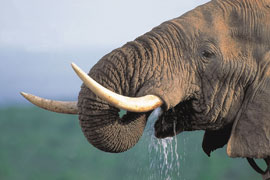 The African Elephant
The African Elephant is the largest living land mammal, one of the most impressive animals on earth. The Elephant's muscular trunk serves as a nose, hand, extra foot, signaling device and a tool for gathering food, siphoning water, dusting, digging and a variety of other functions. The long trunk permits the elephant to reach as high as 23 feet. It is capable of powerful twisting and coiling movements used for tearing down trees or fighting.
The trunk of the African elephant has two finger-like structures at its tip. The tusks, another remarkable feature, are greatly elongated incisors (elephants have no canine teeth). Tusks grow for most of an elephant's lifetime and are an indicator of age. They are "right or left tusked" using the favoured tusk as a tool, shortening it from constant wear.
QUICK FACTS
Size: Up to 11 feet; Weight: 3½ - 6½ tons 
Diet: Herbivorous 
Diet Description: Elephant graze and browse and eat up to 600 pounds of food a day. They can be extremely destructive in their feeding habits by pushing over trees, pulling them up by their roots or breaking off branches. 
Distribution: They are widely distributed throughout central, western and eastern Africa, south of the Sahara, with the forest elephant inhabiting the rainforests of the Congo basin. There are isolated populations in the southern African sub-region. 
Habitat: Dense forests to open plains - Clean drinking water and a plentiful supply of food are an elephant's only habitat requirements. They graze and browse and eat up to 600 pounds of food a day. They can be extremely destructive in their feeding habits by pushing over trees, pulling them up by their roots or breaking off branches. 
Socialisation: Elephants are generally gregarious and form small family groups consisting of an older matriarch and three or four offspring, along with their young. It was once thought that family groups were led by old bull elephants, but these males are most often solitary. 
The female family groups are often visited by mature males checking for females in estrus. Several interrelated family groups may inhabit an area and know each other well. When they meet at watering holes and feeding places, they greet each other affectionately. 
Reproduction: Single young born any time of the year. Gestation 22 months. 
Life span: 60 to 70 years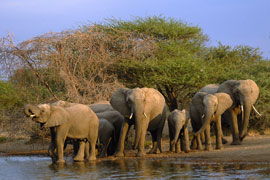 The African Elephant
Interesting Facts: The elephant is distinguished by its high level of intelligence, interesting behavior, methods of communication and complex social structure. Elephants seem to be fascinated with the tusks and bones of dead elephants, fondling and examining them. The myth that they carry them to secret "elephant burial grounds," however, has no factual base.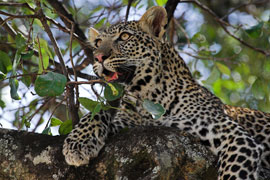 The Leopard
The most secretive and elusive of the large carnivores, the leopard is also the shrewdest. Pound for pound, it is the strongest climber of the larger cats and is capable of killing prey far larger than itself.
The coloring of the leopard varies from white to bright golden brown, spotted with black spots and rosettes. The rosettes consist of groups of 5 to 6 spots arranged in a tight ring.
The tail is longer than half the body length measured from head to tail. This fierce animal has small round ears and long whiskers growing from dark spots on the upper lip. The size of the leopard varies considerably. The leopard differs from the cheetah in having shorter legs, and rosette-like spots and is without the cheetah's black "tear" marks from eye to mouth.
QUICK FACTS
Name: Panthera Pardus
Size: The leopard ranges in size from 1 to almost 2 metres long, and weighs between 30 - 70 kg. Females are typically around two-thirds the size of males.
Diet: Carnivorous; Small animals and medium size antelope.
Habitat: Bush and riverine forests. Usually in or near thickets on mountain sides or along streams and rivers. Leopards are mainly nocturnal animals but are also seen during the day, especially in the early mornings and late afternoons. They usually forage alone except in the mating season. 
Leopards are shy, cunning and very dangerous, especially when wounded. Leopards are very good tree climbers and can pull large prey up a tree to protect it from other predators or scavengers in the vicinity. They return later to feed again. Leopards still occur outside conservation areas.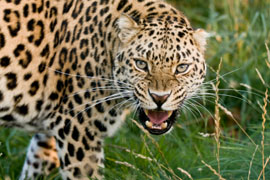 The Leopard
Socialisation: Leopards are basically solitary and go out of their way to avoid one another. Each animal has a home range that overlaps with its neighbors; the male's range is much larger and generally overlaps with those of several females. A leopard usually does not tolerate intrusion into its own range except to mate. Unexpected encounters between leopards can lead to fights. 
Reproduction: Leopard breed throughout the year.
Gestation: The gestation period is 3 months. Number of young is 2 to 3 although more have been recorded. 
Life Expectancy: 20 years. 
Predators: Humans.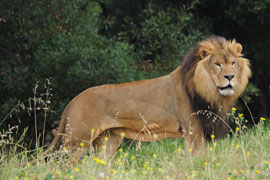 The Lion
Lions are the second largest members of the feline family in the world. Lion are tan in colour and have a slightly white under-body, with a tuft of black hair at the end of their tails.
Most cat species live a fundamentally solitary existence, but the lion is an exception. It has developed a social system based on teamwork and a division of labour within the pride, and an extended but closed family unit centres around a group of related females. The average pride consists of about 15 individuals, including five to 10 females with their young and two or three territorial males that are usually brothers or pride mates.
QUICK FACTS
Size: Lion stand 48 inches high at the shoulder. 
Adult male lion weigh about 416 pounds.
Female lions weigh 277 pounds. 
Male Lions: Male lions are typically 4 feet in height with a large mane of hair that begins to develop around age two that surrounds the neck. The mane can vary in colour from tawny/tan to black.   
Females: Females are 44 inches in height, and have no mane around their neck. Cubs are born with a slightly spotted coat, that changes to their parents tawny coloration around three months of age. Female lions live longer than males, and Serengeti female lions can live up to age 18, whereas males typically live to age 12.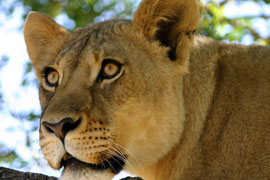 The Lion
Habitat: Lions are found in savannahs, grasslands, dense bush and woodlands.
Diet: Carnivore
Diet Description: Lions are opportunists when it comes to feeding. They will scavenge from other predators that have killed an animal, or will hunt animals ranging in size from the large African buffalo to a small hare. 
Socialisation: Lions are the only 'social' cats, whereby related female lions live together and form groups called 'prides'. Lion prides are family groups with all of the females related, mothers and daughters, sisters and cousins, etc. 
A pride can range from three to 30 individuals, but tend to average about fifteen members, which include male and female lions plus a number of cubs. The number of lions in a pride will vary significantly based on the number of prey animals that live or migrate through the pride's territory.
Reproduction: Cubs are born after a gestation period of 110 days, with female lions giving birth in a den site, typically located in a rock outcrop or in dense vegetation. A female will on average give birth to three cubs that are between 2 to 4 pounds in weight. 
Predators: Humans.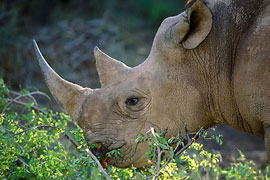 The Rhinoceros
The rhinoceros is a large, primitive looking mammal that in fact dates from the Miocene era millions of years ago. In recent decades rhinos have been relentlessly hunted to the point of near extinction. Since 1970 the world rhino population has declined by 90 percent, with five species remaining in the world today, all of which are endangered.
The white or square-lipped rhino is one of two rhino species in Africa. It in turn occurs as two subspecies, the southern and the northern. The southern dwindled almost to extinction in the early 20th century, but was protected on farms and reserves, enabling it to increase enough to be reintroduced. The northern white rhino has recovered in Democratic Republic of Congo from about 15 in 1984 to about 30 in the late 1990s. This population has been threatened by political conflict and instability.
QUICK FACTS
Name: Black Rhinoceros - Diceros bicornis
Name: White Rhinoceros - Ceratotherium simum 
The White Rhino: The white rhino's name derives from the Dutch "weit," meaning wide, a reference to its wide, square muzzle adapted for grazing. The white rhino, which is actually grey, has a pronounced hump on the neck and a long face. 
The Black Rhino: The black, or hooked-lipped rhino, along with all other rhino species, is an odd-toed ungulate (three toes on each foot). It has a thick, hairless, grey hide. Both the black and white rhino have two horns, the longer of which sits at the front of the nose.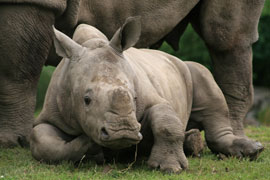 The Rhinoceros
Size: The rhinoceros stands about 60 inches at the shoulder. 
Weight: Black Rhino: 1 to 1½ tons. White Rhino: over 2 tons.
Habitat: Grassland and open savannahs. Black rhinos have various habitats, but mainly areas with dense, woody vegetation. White rhinos live in savannahs with water holes, mud wallows and shade trees. 
Diet: Vegetarian. Black Rhino - browser. White Rhino - grazer. 
Diet Description: The black rhino is a browser, with a triangular-shaped upper lip ending in a mobile grasping point. It eats a large variety of vegetation, including leaves, buds and shoots of plants, bushes and trees. The white rhino is a grazer feeding on grasses. 
Socialisation: Rhinos live in home ranges that sometimes overlap with each other. Feeding grounds, water holes and wallows may be shared. The black rhino is usually solitary. The white rhino tends to be much more gregarious. Rhinos are also rather ill-tempered and have become more so in areas where they have been constantly disturbed. While their eyesight is poor, which is why they will often charge without apparent reason, their sense of smell and hearing are very good. 
They have an extended "vocabulary" of growls, grunts, squeaks, snorts and bellows. When attacking, the rhino lowers its head, snorts, breaks into a gallop reaching speeds of 30 miles an hour, and gores or strikes powerful blows with its horns. Still, for all its bulk, the rhino is very agile and can quickly turn in a small space. 
The rhino has a symbiotic relationship with oxpeckers, also called tick birds. In Swahili the tick bird is named "askari wa kifaru," meaning "the rhino's guard." The bird eats ticks it finds on the rhino and noisily warns of danger. Although the birds also eat blood from sores on the rhino's skin and thus obstruct healing, they are still tolerated 
Lifespan: 35 to 40 years. 
Reproduction: Young are born after a gestation period of 16 months. 
Predators: Humans. Man is the cause of the demise of the rhino. In the wild, the adult black or white rhino has no true natural predators and, despite its size and antagonistic reputation, it is extremely easy for man to kill. A creature of habit that lives in a well-defined home range, it usually goes to water holes daily, where it is easily ambushed. The dramatic decline in rhino is unfortunate in an era of increasing conservation but efforts are underway to save the rhino from extinction.